Custom Built Website Design:
Well, let's dive into costs of designing a website right away because frankly that's what most people want to know first. Over the years we have built a variety of websites. From simple one page websites for around $100 to very complex websites that rely heavily on server and database communications. The very complex websites can easily incur costs of over $3,000. Most of the sites we build are closer to $1,100. I guess my point to all these cost numbers is to let you know that your final design costs will really depend on how big and complex you want your site to be. We charge a reasonable rate for your production and we have lots of experience so, not to brag but we are very good at what we do.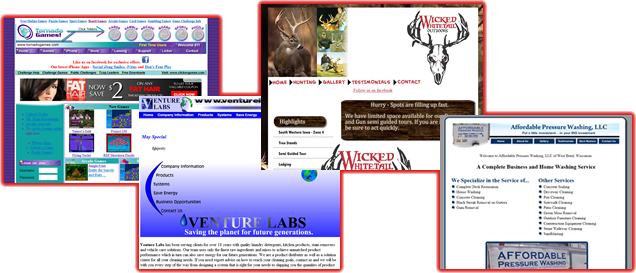 What Do We Offer?
For starters, we can host your website which means your site won't fall apart every time the hosting company changes their policy or updates a server package. I've seen it so many times before where people contact us because their site stopped working and the person they hired to build the site is no where to be found. The person they hired has taken all of the source code and graphics in their raw format and disappeared. Now, their entire site has to be re-created. Which brings me to my second point of this long paragraph, we upload all of the raw images and source code to a secure area on your site which you can download and save for future use.
Search Engine Placement and Ranking!
When designing your site our focus is on organic search results. We have a few tricks up our sleeve to get your site ranked high on the search engines. We do not guarantee any type of placement but we have managed to get our customers on the first page of results (sometimes even first) for the search terms we were targeting. We know some companies like to charge $500 or more per month for search engine placement. We have a much cheaper approach - it's just part of the design. Be careful of companies that promise search engine placement - you might just be dumping money down the drain.
Mobile Site Design:
Remember the days of the big boom boxes? For those younger people who don't know what that is, it's was a portable stereo and back in the day - bigger was better. Times have changed a little, it seems that smaller is better and the same goes for mobile devices. Most screens on mobile devices are around 3.5" and a normal website is designed for a computer screen which is more like 19" or bigger. Most websites are too big to view on the those little screens but we have a solution. We can design your web site to auto-detect the screen size and fit on the screen correctly. This does add some cost to your web development but it's an affordable solution compared to having a custom app developed.
Quick Arcade:
For websites, content is King! Having more content will help bring in more customers to your website and thus increasing your exposure and sales.

Ok, let's talk about programming services for websites. Here is a quick overview of the services we offer.
| | |
| --- | --- |
| | HTML & DHTML |
| | HTML5 - great for cross platform development. |
| | PHP |
| | ASP |
| | MYSQL - design, setup and programming |
| | Java and JavaScript |
Things to think about:
If you are ready for a new website the best way to get started is to think about 3 or 4 colors that you would like to use in your website design. Also, spend some time on your favorite search engine and search for companies that are in the same line of work as you. Get some ideas of what you like and don't like about the other websites. Once you have this information, email us that information along with your logo if you have one and we will come up with some ideas for your design. Don't be afraid to include links to other sites that you like and don't like. Take a little time to explain why you like and don't like the designs. If you don't like typing then just give us a call and we will figure out a good time to meet or talk over the phone to discuss your likes and dislikes.